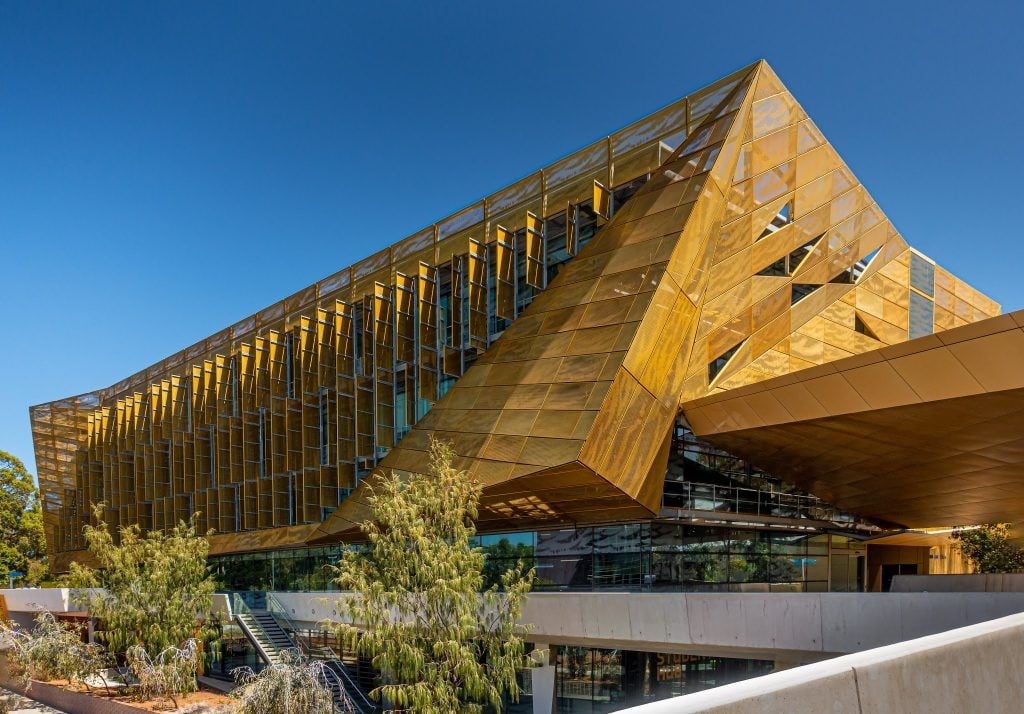 Headquartered in Perth , Edith Cowan University has been one of the iconic institutions in Western Australia. As if destined to be unique, the university started in 1991 as the first university in Australia to be named after a woman and continues to remain uniquely so in multiple aspects of education. With over 30000 students studying across its three campuses, this young university has won a 5-star rating for its teaching quality for 14 straight years now. ECU is home for 7000 international students studying 300+ undergraduate and postgraduate courses. From performing arts to science, business to cybersecurity, education to health science, ECU offers an astounding range of courses.

ECU's Joondalup and Mount Lawley campuses are located in metropolitan Perth while the Banbury campus is in a regional location. All campuses have on-campus accommodation facilities for students, and their architectural beauty is noteworthy. With sports and recreational facilities, cafes and bars, salons, spas, theatres and bookshops - all located inside, ECU campuses are miniature cities themselves. ECU is located in Western Australia, which naturally makes it a desirable place to study as the state is quite industrious and full of opportunities for fresh graduates. ECU consistently achieves high ranks in graduate satisfaction surveys year after year, and its progress in other fronts of higher education is admirable.

Making high-quality education accessible to everyone is one of the founding principles of ECU. It was also one of the dreams of Edith Dircksey Cowan, who was a social reformer and the first woman MP of Australia, whom the institute is named after. Therefore the university till date consciously makes efforts to offer high-quality education affordable to all sects of society. If you are looking to study in 2021 your next degree, ECU could be the perfect place you have been looking for.
What to study in 2021 at ECU?
From a certificate course to a doctorate, ECU offers a truly diverse set of courses for you to pursue across fields. Arts and Humanities, Aviation, Business, Computing, Education, Health Science, Medical & Biomedical science, Neuroscience, Performing arts, Social Work etc. are taught at their highest levels of quality. Based on where your interest lies, you can pick a course, study and excel. However, if your choices are flexible and you are on the lookout for job-ready study options in 2021, here are a couple of courses you should consider first. These two courses do enjoy a perennial demand, and this year, they top the charts given how Australia's job-market landscape has changed in 2020.
If there is one area of computer science that is about to face a massive boom in the future, it is cybersecurity. With every aspect of our lives becoming increasingly digitalized, the critical role of cybersecurity becomes indisputable and only eternally growing. Across the world, employment prospects are plenty for cybersecurity graduates in cyber law enforcement, data security, in both government and private sectors. In Australia, there are only two universities that are recognized for their excellence in teaching cybersecurity, and ECU is one of them.

ECU's cybersecurity programs are recognised by the Australian Computer Society (ACS) and the university has the largest cybersecurity research and education program in Australia. The best part is that the program is open for students from different academic backgrounds. So, anyone with a passion for cybersecurity can learn and have a shot at a bright career path.

ECU's cybersecurity program aims at providing a learning experience that is a replica of your typical day at work as a cybersecurity professional. The state of the art infrastructure like the New Security Operations Center at ECU supports this goal. The program is work-integrated, lets you understand complex concepts of cybersecurity, research methods and principles. Along with in-depth knowledge, the course focuses on developing better critical thinking skills and project management skills in students to mould them as leaders in this space.

As a cybersecurity graduate, you can find a job in network security, computer forensics, network forensics, security assessment, information warfare and cybersecurity management. Based on your strengths, you can play a role as a designer, architect, analyst or a security system engineer in the aforementioned fields.
Nursing is an ideal choice for international students whose primary goal is to migrate to Australia permanently. As a registered nurse, you can play a variety of roles in the healthcare industry. Now, the situation in Australia is highly in favour of healthcare professionals in both career and migration perspective.

A well-qualified nursing graduate can work in childcare, critical care, aged care, mental health, paediatrics etc. in Australia. ECU's nursing program is accredited by APHRA, which ensures your fluent transition from a nursing graduate into a registered nurse. The course is facilitated by faculties with excellent industry experience and taught in a simulated environment. ECU has partnered with multiple local and metropolitan hospitals. As a part of your course, you will work at these hospitals and gain practical knowledge and skills.

The bachelors nursing course at ECU has multiple entry points. Based on your background and work experience, you can qualify to enter the course at the end of 1st or 2nd or 3rd year. Similarly, the master's degree is open to students from a variety of academic backgrounds. This globally recognized degree opens gates to a high-growth, respectable career in and outside of Australia. If you have a service mindset and caring nature, a nursing degree will help you leverage your innate strengths into a handsome career.
Book an Appointment
"The facilities at ECU are amazing. Being able to practice my skills at ECU before going out on clinical placements helped me build confidence and prepared me to practice the skills I had been learning at university in a real-world environment. I also experienced what it was like to be part of a professional nursing team which gave me a deeper appreciation for the importance of nursing"
-Alexandra Kung Master of Nursing (Graduate Entry) graduate
Scholarships for international students in 2021 at ECU
Intending to make higher education affordable for everyone, ECU offers multiple scholarships to students every year. Here are the top, high-value scholarships you should not miss out this year.
2021 International Australian Alumni Scholarship
In order to recognize the connection between international students and Australia, this scholarship offers a 20% fee discount to international students who have already completed a degree in Australia.
2021 International Accommodation Bursary
If you start a course in semester 1 of 2021 at ECU's Mt.Lawley campus, you can avail an attractive 50% discount on your on-campus accommodation fee. This bursary effectively brings your cost of accommodation under $100.
Early Acceptance Bursary Semester 1, 2021
This semester, if you accept ECU's offer within three weeks from the date of issue, you get a $1000 off on your tuition fee. If you accept the offer within 14 days, you get a further $2000 discount.
ECU Online Bursary
This $2000 bursary is for undergraduate and postgraduate students who cannot start their studies on campus due to travel restrictions. The students can start studying online and continue on campus once they can travel to Perth. This $2000 discount will be applied on the second-semester fee.
Top reasons to consider ECU in 2021
* ECU is a progressive university in Western Australia improving on rankings year on year
* Perth is designated as a regional city which gives a considerable advantage on the migration front
* After graduation, you could be nominated by the Western Australia state government
* Campus locations are safe and easily accessible
* WA is a prosperous region in Australia. Industry exposure and job opportunities are higher for international students.
* Placements and internships for students with leading organizations
* Low tuition fee compared to to other universities and it can be further reduced with scholarships
* ECU campuses are diverse, friendly, supportive environments
* Being a young university, ECU is agile, flexible and innovative.

Whatever you dream of achieving in Australia in the next few years, 2021 is the ideal year to give your career a head start. By studying in ECU in 2021, you are acquiring a globally recognized degree and in-demand skills that position you well to obtain top jobs and PR sooner than you think. Start exploring the courses today and apply early. Our education consultants can guide you from application to admission with ECU. Stiff competition is imminent for all top courses in 2021. Therefore, securing a seat for your favorite course at ECU is going to be a matter of thinking fast and acting early. Talk to us today.
Found it helpful? We can help you take it further. Contact us and get all your queries on PR, visas, migration, scholarships, and others answered today!