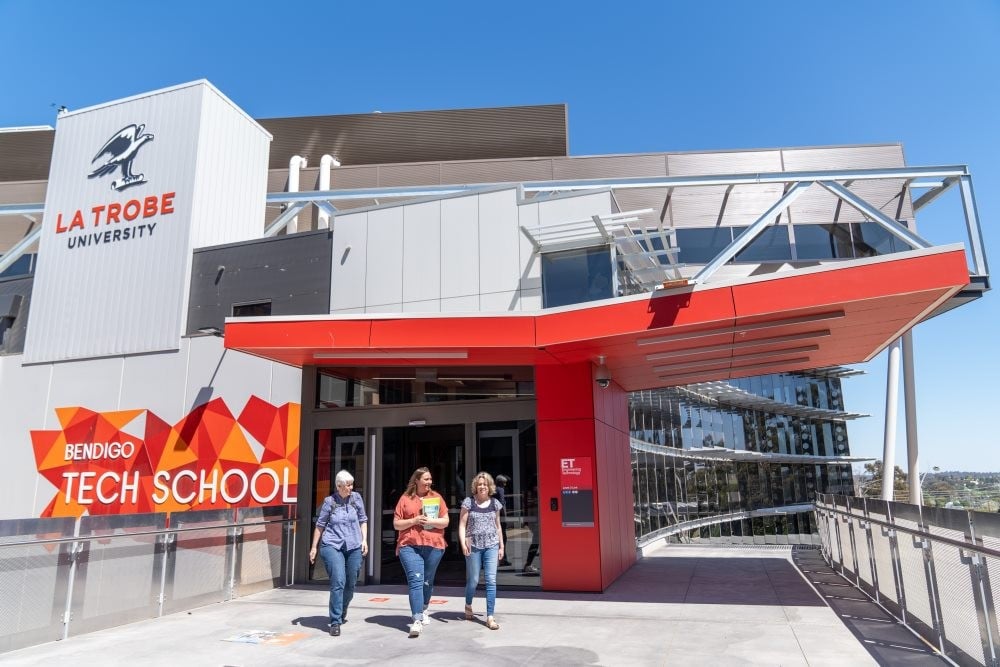 Going regional? Study at Latrobe university
Having turned 50 a couple of years ago, La Trobe university today is a well-accomplished, premier institution in Australia. When we look at the world university rankings of recent years, La Trobe basks in the success of being one of the top 50 young universities of the world. Across its 7 campuses, the university provides 160+ degree options for students to explore, many of which are rare and futuristic. La Trobe, today, is one of the top 1% of universities in the world.
This success can be attributed to the institution's high emphasis on the research quality, industry-oriented curriculum design and teaching & learning infrastructure that prepares students as leaders in their respective fields. The university has 7000+ international students from 100+ countries that help keep the university campus an inclusive, safe, and exhilarating place to study. More than 90 student-run clubs in the university make your time on the campus a wonderful chance to discover your true self. 4 of the 7 La Trobe campuses are regional campuses where you can study your favorite course with exclusive regional scholarships and at an affordable cost of living.
La Trobe University has its own wildlife sanctuary at Melbourne (Bundoora) campus, where you can spot some of the rarest species of indigenous animals, birds and trees. If you are looking to study your next course in 2021 in Australia, La Trobe university certainly is a place to consider first, and here are the reasons why.  
Study in regional Victoria
Victoria is the most popular, multicultural destination in Australia for international students to study in. The state is home for more than 150000 international students every year pursuing various levels of study. With Melbourne as the capital city, this second smallest state of Australia is boasting its rich heritage. Victoria throughout the year buzzes with international art, culture and sports events which makes it a desirable place to live in. Even the small cities and towns of Victoria are epitome of natural scenic beauty. Melbourne museum, Heide Museum of modern art, Victoria state library, Koorie Heritage trust, Melbourne cricket ground, Royal Botanic Garden are some of the places in Victoria that draw hundreds of thousands of tourists from all over the world to Victoria.  

While being a welcoming and most beautiful place to live, the state is also glowing with a healthy economy, exponentially growing number of industries and companies. Based on the opportunities available after graduation, quality of life, the student mix and employer activity, Victoria's capital Melbourne was rated as the third best student city in the world in 2018 by QS world rankings. With numerous thriving companies in the state, students can find industry placements, internships during and after studies quite easily and gain the required experience to find a full time job. Except Melbourne, the other cities in Victoria are designated regional areas which means you become eligible for Post-graduate work visa incentives of studying in Regional Australia from the government. 
Regional campuses
Regional areas of Victoria are quiet, warm locations with a significantly low cost of living compared to . Though the cities are termed as 'regional cities', they offer almost every facility a metropolitan city can. As an international student, by living in a regional area, you cut down a lot of cost and experience real Australia.  La Trobe university has four of its seven campuses in Regional areas. By enrolling in one of these campuses, you get to study some of the most advanced, futuristic courses at an affordable cost and a high chance of finding employment post your studies. 
Bendigo Campus 
Designated as Creative city of gastronomy by UNESCO, Bendigo is a regional city in central Victoria, only a 90 minutes drive from Melbourne.  La Trobe's Bendigo campus is one of the largest regional campuses that serve more than 4000 students with an extensive scope of high-ATAR courses in areas of interest like medicine, law, pharmacy, science, dentistry, and engineering. This campus is home to the largest rural health school and their nursing subjects are ranked in the top 100 globally. 

The campus' close ties with the local industry provides an opportunity to apply knowledge into practice through internships, volunteer opportunities, and industry placements under programs like career ready advantage. According to the graduate outcome survey 2019, 94% of Bendigo students secure employment by their graduation date.

At Bendigo, International students take advantage of a vast range of opportunities globally while rejoicing in an easy-going lifestyle at Victoria's fastest growing regional city. Bendigo campus sports impressive architecture, gardens, public sculpture, and fountains. It has the perfect blend of momentous yet modern built heritage. This place has influenced innovation and creativity that can be appreciated and enjoyed.  The campus offers courses in Agribusiness, Creative arts, Business marketing and event management, Law, Criminology, Early childhood and primary education, Biomedical science and Info tech. 
Albury-Wodonga Campus 
Being one among the four regional campuses, Albury-Wodonga provides industry responsive courses that meet the needs of the current job market. The University flaunts a wide array of courses including specialisations in Arts, social science, communications, business and commerce, health, IT and engineering, Law and criminology, and science. The university has a strong focus on strengthening its regional campuses through its regional strategy and hence introduced Regional Advisory Board. The campus provides residences and café with common spaces for the students. The Campus also features top class Biomedical Labs, Clinical learning units, Centre for freshwater ecosystems and Library. Melbourne being famous for its hidden laneways, street art, superb food and wide range of cultural events, makes the students feel positive, safe and supported in the city. La Trobe Albury-Wodonga campus, provides access to world-class facilities and makes students to be a part of Australia's friendly and multicultural society. 
Mildura Campus  
The La Trobe Mildura Campus offers the best of both worlds, the feeling of studying in a leading university and a close- knit, supportive, regional campus. The campus offers exceptional courses that help the students, benefit from local placements while studying, or with metropolitan partners of La Trobe once graduated. The Campus provides various courses including specialisations in Arts, social science, communications, business, commerce, health,  engineering, Law, and science. The campus brings highly flexible online courses that are strongly backed by industry accreditation. 

The campus offers modern lecture theatre, seminar rooms, computer and clinical learning unit, food outlets, child care, and library. Additionally, they are also provided with fundraisers, parties, bowling nights, movie nights and mature age events. Overall, La Trobe Mildura campus creates a positive and friendly social network for students. Mildura has at least a dozen parks and gardens that portray the beauty of real Australia which make the city an unmissable experience for nature lovers. 
Shepparton Campus
Established in 1994, the Shepparton campus is situated at the center of the town. The campus is a contemporary building with teaching, study, and communal meeting spaces, a fantastic cafe, and a clinical learning entity with developed teaching methods. The clinical learning unit enables students to exercise knowledge to practice important clinical skills in a safe atmosphere. 

Shepparton campus also maintains a fantastic student employment record. By the graduation date, 95% of Shepparton students secure employment. The campus is equipped with high-standard teaching and study facilities and is the second-largest rural nursing school in Victoria. At Shepparton, undergraduate, postgraduate, and research degrees in Social work, Nursing, Philosophy and Agribusiness are offered with flexible study options. By creating strong partnerships and collaborations with community organisations and industry, Shepparton ensures every student achieves success with their career in Australia.
What should you study at La Trobe in 2021?
As mentioned above, the university offers 160+ degrees across Arts, Business, Commerce, Criminology, Engineering, Healthcare, IT, Social science etc. From the most conventional course choices to the most advanced ones like artificial intelligence, you can study anything from a diploma to doctorate level. The following are some of the recommended choices to study in 2021.
Master of Information Technology (IT/IoT/ICT) 
The postgraduate degree in information technology is one of the hot courses of 2021. International students who have a passion for technology and looking to kick start their career in Australia soon opt for this course. Commencing from March 2021, this masters program is ACS (Australian Computer Society) accredited, and curriculum is highly in line with industry needs. In this two year program, you acquire some of the most in-demand IT skills such as project management, cybersecurity, communication system design etc.  

IoT program is the first of its kind in Australia that offers hands-on experience in developing advanced programming and design skills. It would be so right to say IoT will be the future of technology given its power to impact even the minutest aspects of our lives. As a testament to the success of the IoT program at LaTrobe, the department's two IoT projects' Clever Weather' and 'Long-range IoT network' have already won a few awards. The former predicts Bendigo's weather accurately while the latter analyses the internet signal strength across the city to the highest possible levels of precision. These projects help in managing the city effectively and provide a high-quality life experience to its residents. For students, to see the impact of their academic knowledge and efforts coming to life is unique and becomes an experience to cherish. This is what the course precisely aims to accomplish - to produce confident, job-ready individuals who can apply the power of technology to the betterment of society. 
Annual course fee 
| | |
| --- | --- |
| Master of IoT  | AUD38400 |
| Master of ICT | AUD 28650 |
| Master of IT | AUD 37200 |
 
With the aid of scholarships, these courses become even more affordable. You get to access La Trobe's world-class research centres, including the Optus Cybersecurity Research centre, the Centre for Technology Infusion, and La Trobe's IoT research lab developed in collaboration with Microsoft CISCO. The Information technology graduates from La Trobe have successfully landed jobs at Australia's top tech employers like CISCO, Deloitte, Optus, RACV and Managed Services Australia. 
Master of Management (Project Management)
Project management is one of the fastest-growing areas of employment across the world. It combines knowledge of the latest project management tools, foundational and advanced principles of project management and leadership qualities to make a successful project manager. The master's program in project management at La Trobe is designed to create such managers out of young, curious minds. In this course, you will learn the fundamentals of business management, marketing, HR, finance, advanced project management principles like PMBOK, Prince2 and agile. The course is supplemented by industry placements, guest lectures from top organisations in Australia. The real-world case studies picked from the challenges faced by multinational corporations are brought to students to analyse, solve and learn.  

The course has diverse specializations for students to choose, such as business analytics, entrepreneurship, supply chain and logistics management, innovation and sports management. Therefore, La Trobe's project management course is a precious opportunity for international students aspiring to become leaders in the business management space. Power your passion by obtaining skills and set your career in a high trajectory. 
Course fee: AUD 38500 per year
La Trobe University rankings and key facts
Ranked in the top 1% of world universities

Ranked in the top 50 universities in Asia-pacific

5-star rating in QS world university rankings for teaching, research, employability and internationalization.

5-star rating for inclusiveness, facilities and innovation.

87.6% of undergraduates and 94.2% of postgraduates find a job within four months of course completion

Ranked #45 among the young universities of the world by Times Higher Education(THE)

Ranked 1st in the world for gender equality, 2nd in the world for health & well being, and 4th for overall contribution to the UN's Sustainable Development Goals.

Ranks in top 100 globally for teaching quality 
La Trobe has a dedicated team called 'Career Ready' that prepares each student to become suitable for the best jobs in the world. The team assists you with networks, mentorship, and information that you need to seamlessly get ahead in your career path. During your time at La Trobe campus, you can avail counselling from experts to deal with any psychological, social and emotional challenges. The campuses' vibe is always cheerful and lively, with a lot of activities for you to explore and participate. You can avail 24x7 online support on any queries related to studies or stay at La Trobe via AskLaTroe portal. You can access the university's on-campus and off-campus facilities at an affordable price, whether you are single or moving in with your family. 

Many international students participate in sports and cultural events and represent La Trobe in significant competitions across Australia. There is something for everyone to do at the campus and celebrate their campus life. La Trobe's highest priority to innovation in all aspects of its functioning, from teaching to Eco-conscious operation, without a doubt, positions the institution as one of the best places to study in the world. 2021 is an ideal year for international students looking to learn at LaTrobe and grab the best opportunities of the impending boom in the post-pandemic world. Talk to us today and reserve your place at La Trobe by applying early.
---
By accepting you will be accessing a service provided by a third-party external to https://www.aeccglobal.com.au/