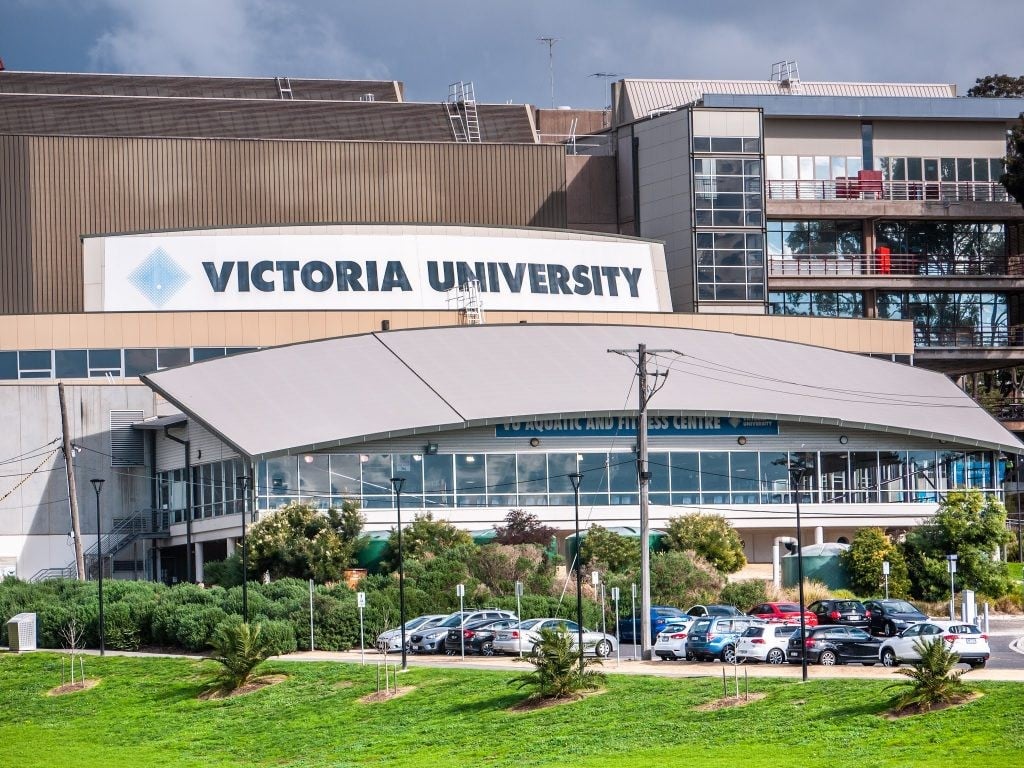 Study at Victoria University in 2021
In 2016, Victoria University celebrated its centenary year of exceptional educational service to Australia and to the world. The iconic university of Australia, started as a technical school with 200 students, has become the 56th best young university in the world in 2017. Today it is a dual-sector tertiary education provider with 40,000 students among which are around 13,000 international students from more than 100 countries.  

Having its beautiful campuses situated across the two most lively cities of Australia, the university offers many diverse courses. The university has strong industrial connections with over 4000 organizations being partners with them. The university offers diploma, undergraduate and postgraduate programs in Arts, Business, Education, Engineering, Health Science, Sports etc. 

The institute obtained university status in 1991 and within a couple of decades, Victoria University has joined the league of top global universities. This feat was possible by the consistent innovation and conscious efforts to push the standard of education it provides. Understanding the needs of the industries, designing curriculum to cater to those gaps, moulding students through cutting-edge teaching-learning practices are some of the reasons why the university is highly sought-after.

If you are an international student looking to study a course in 2021 with hopes to base your career in Australia soon, Victoria University is one of the ideal destinations. The university is a forerunner in modern educational practices and, as a result, their students shine in their careers with top organizations. Along with quality education, the university focuses on providing an atmosphere for students to develop leadership and problem-solving capabilities and flourish in whatever path they pursue.  Among the plethora of compelling reasons you should start your studies at Victoria University in 2021, here are some of them.
VU's secret of success revealed - The Block Model
The Block model is quite a revolutionary model of learning students go through at Victoria University. This unique way of learning has been modelled by taking inspirations from some of the top European and American universities. And it's no surprise that the model has produced fantastic results in terms of the effectiveness of learning within 3 years of its introduction.

In the traditional model, students study four units in a semester and the units are taught and learnt simultaneously. Students here juggle with the courses, try hard to balance time between different units and assignments.  Though in a traditional perspective, this method could seem normal, the VU's block model of learning clearly stands apart when compared with the former. 

In the block model, a semester is split into blocks of 4 weeks each and a student learns only one unit per block. Given the small class size at VU, the block model ensures that students' complete attention goes to the current subject and they have the course facilitator's complete support throughout. This unwavering focus on one unit for four weeks results in deeper understanding of subjects, working on things beyond books and discussing more ideas which lead to a quality learning experience. 

Notably, the International students have been major beneficiaries of this model. From the results, it is evident that the model guarantees high-quality learning which is the original reason they chose to study abroad. The pass rate of international students has increased to 93% in the block model and 53% of them achieve distinction. And, the results come within three days of completion of a block. Therefore, you move on to the next block with high confidence and eagerness. 
It's award winning!


The block model has won a handful of awards since its inception in 2018. International Education Association Australia's Excellence award for innovation in 2018, the Victorian International Education 2018 award for Excellence in International Education and the Desire2learn 2019 D2L Excellence award are a few to mention.

It's more flexible! 

The sessions in this model are flexible. You can choose to study in one of the four sessions (morning, mid-morning, noon and evening) which lets you plan your day smoothly. Studying with a group of students over a few weeks also helps in making meaningful connections and good friendships in the country which is important while living in a foreign country.  

So far, the block model has been applied to only the undergraduate programs. From 2021 most postgraduate programs will also adopt the model, the news of which is already making waves among the international students community. 

Students love it! 

On the block model, Ruyi Jin from China, a student of Bachelors in Early Childhood Education at VU says ,"I really appreciate the Block Model. It means students have the time to review content, reflect and do the assessment. The Block Model presents a clear learning schedule and there is a reasonable workload. The intensive learning helps me to develop a deep understanding of the content and to get good marks."
Trending courses in 2021 to study at Victoria University
Observing the course selection pattern of International students year after year confirms one fact. Courses that are affordable, promising a robust career both in Australia and their home country, and are most favourable to the PR conditions in Australia do face a high demand. Based on this observation, this year, here are the three courses that will gain an increasing popularity among international students.
Graduate Diploma in Early Childhood Education 
This one-year program on Early Childhood Education from Victoria University is a fulfilling field of study and promises an excellent career. In this program, you will study subjects that focus on the development of children under 5 years old. 

This ACECQA accredited course offers you a complete hands-on experience. As a part of the course, you spend 15 days with infants and toddlers, 15 days with 3-5 year olds, 5 days in a primary school setting and 25 days in an early childhood facility. If you are passionate about becoming a graduate early-childhood teacher, this is an experience you will cherish and value. 
The program covers the following areas of early childhood education
child development

teaching practice that includes Aboriginal perspectives

education and curriculum studies focused on childhood and relationships

family and community contexts

advocacy and activism in early-childhood settings

history and philosophy of early childhood

ethical early-childhood professional practice.
You can become a qualified early-childhood teacher on completion of this course. If you are aspiring to be a teacher and make an impact on the lives of children, you can study a Diploma and Bachelor's degree in Early Childhood Education.
Bachelor of Social Work
Social work is one of those rare fields in which people enjoy high levels of job satisfaction and surveys prove it repeatedly. It is ideal for you, if you are empathetic, care about the humanitarian crisis that exists in the world and are willing to solve it with your skills.  

The social work program at VU is accredited by the Australian Association of Social Workers and the bachelors program is of 4 years. In this period, through on and off-field work, you get to learn in-depth these major areas of social work across courses
interpersonal and group work

community development

policy analysis

social research

social action 
As a part of this degree, you undergo two industry-based placements in a human service agency setting. Under the supervision of experienced social workers these placements enrich your learning experience.  Under the student exchange program, you can also study one or two semesters at one of the 100+ partner universities of VU across the world.  

Olena Nguyen, an international student from Vietnam in this program, who was a nominee of the 2018 Victorian Education awards program, has given her thoughts on the course. 

"Throughout my life I've volunteered so I've always wanted to give back and contribute to the community. After I finish my degree my dream is to work in human services for the government or not-for-profit organizations. ­I'm excited for the future and to see where my degree takes me." 
Bachelor of Engineering (Electrical & Electronics, Civil, Mechanical & Architectural Engineering)
Engineering as a degree and a career never goes out of fashion. Creative minds who enjoy problem solving do thrive with an engineering degree.  VU offers a 4-year bachelors program in Electrical & Electronics, Civil, Mechanical and Architecture.
The program co-designed by industry partners lets you learn from the current industry problems and prepare you to become a job-ready engineering graduate. High emphasis is given to practical work which is facilitated by workshops, industry placements and internships. The laboratories are top-notch and fully equipped with the latest machines and software for you to learn and stand out. 

The degree prepares you for an array of roles in the industry. You become  qualified to work in research and development, product development, technical managerial roles and even sales and marketing in your industry. The salary of skilled engineering graduates lie in the high-end of the salary spectrum in any country. 
Sachin Kundu, a civil engineering alumni of Victoria University, said this when asked about his VU experience.

 "At other universities, you have to pick a specialization in your third and fourth year but at VU you study all core subjects – environmental, traffic, structural, hydraulic and geotechnical engineering – which means you're not restricted to one area. After graduation I stayed in touch with my course coordinator who sent me job roles and gave me a reference for my resume; that support was incredibly valuable to my career".

Sachin joined the university in 2011 and within a couple of weeks after graduation, he was selected for a graduate position at Boral, a multinational manufacturing supplies company.  

In the Academic Ranking of World Universities 2018 published by the Shanghai Ranking Consultancy, Victoria University ranked 32 in the world in automation and control.  
Victoria university supports international students with hefty scholarships funded by both the university and the external resources. Eligible international students can avail these scholarships, offset the cost of studying and complete their studies comfortably.  Along from the regular scholarships, Victoria University has introduced a new scholarship for students commencing their studies in the first semester of 2021. 
VU Future Leaders Scholarship 2021 - 20% off tuition fee
International students who enroll for a higher education diploma, undergraduate or postgraduate program in 2021 are eligible for this scholarship.

You can apply for this scholarship by expressing your interest while sending in your application. If you are assessed eligible, the scholarship will discount 20% of your course fee for the first two semesters. Upon successful completion of two semesters, you can apply for the extension of scholarship which will discount 10% of the fee for the following semesters. 
Rankings testify the quality of education at Victoria University  
Numbers don't need adjectives. Victoria University's continuing commitment to provide world-education reflects in the rankings published by top agencies in the industry, year after year. 
In the

Times Higher Education (THE)

World University Rankings 2021 (and previously in 2017–20),

VU was ranked in the

top 2% of universities

worldwide

In 2019, VU ranked

51st among more than 300 universities

in the Times Higher Education

Asia–Pacific University Ranking

. 

VU ranked 56th in the world's top 200 universities under 50 years old, in the

Times Higher Education

Young University Rankings. VU has ranked in the top 60 since 2017. 

VU ranked 11th out of 22 Australian institutions in the 2020

Times Higher Education

Young University Rankings. 

VU ranked 54th in 2018 and

55th in 2017 for the Times Higher Education Asia Pacific

University Rankings, moving up to 51st in 2019.
It's a beautiful place to study, live and cherish forever!
As an international student, choosing to study abroad is an important commitment you make in terms of time, effort and money. For what it takes, the degree is worthwhile only when it offers a well-rounded experience that transforms you into a better person. At the end of your studies, you should possess skills that assure a bright career, international experience that molds you into a global citizen, a world-wide network of friends and professional connections. International students at Victoria University enjoy this complete experience.
A diverse community, team work, inclusive learning culture and student support that goes beyond your time at the university are a few reasons why the institute remains one of the most favorites to study in.  
Besides that, the campuses are a blend of state-of-the-art construction and the beauty of Australia's natural environment. Sydney and Melbourne are some of the most lively cities with leisure events happening almost everyday and they are the safest cities. 
While living in Australia, you can enjoy the sight of exotic locations very conveniently.  Study at the Victoria University to have a transformative experience personally, professionally.

AECC Global is one of the privileged partners of Victoria University.  Our team of expert education and migration consultants can help you find the right course and help you with the admission process throughout. Amongst the stiff competition, their experience can help your application stand out and make the chance of acceptance go up. Their guidance will also be extremely helpful in planning your life in Australia beyond your student days. Book a free consultation today and accelerate your journey towards stepping into Victoria University.
---
By accepting you will be accessing a service provided by a third-party external to https://www.aeccglobal.com.au/