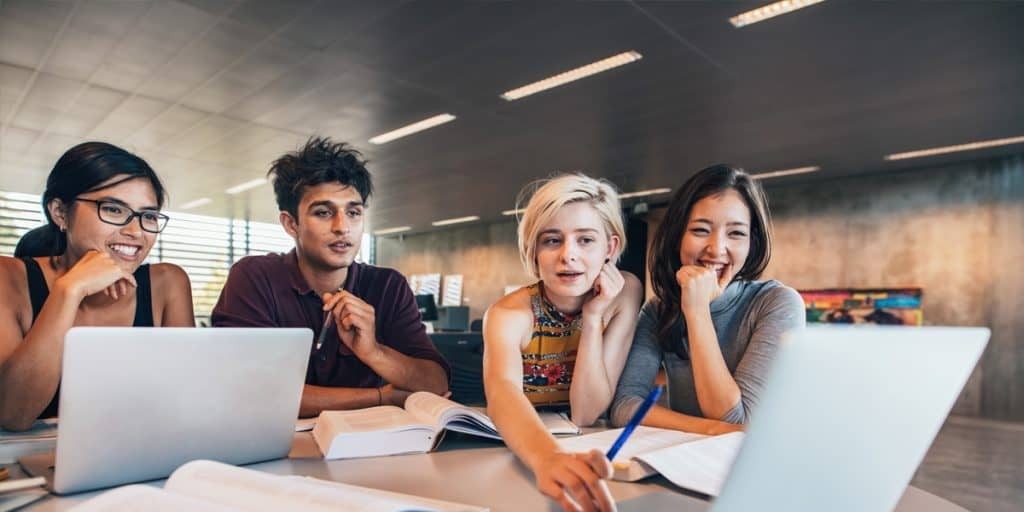 Top Universities to Study Cyber Security in Australia
Cyber Security provides a concrete base and makes those who are interested in the discipline cybersecurity literate with sound technical skills and industry expertise to make them highly employable. Cybercrime and cyber terrorism need to be dealt with immediately and a professional degree in this discipline equips you with this and much more.
Securing a degree in cybersecurity is highly beneficial and helps identify security issues that are critical in safeguarding sensitive data and keeping systems and enterprises safe from within. Cyber attacks or intrusions are made with the purpose of making way, altering or removing sensitive data from the system. These malpractices include permanent changes in any business dealings, money laundering or extortion, illegal access to private information of individuals.
 
Universities today have thoughtfully designed flexible courses and degree programs with inputs from stakeholders, industry holders and other experts with the aim of generating cybersecurity professionals with life-long skills that can help industries, organizations and personal career goals of students.
Top universities offering Cyber Security Degree:
The University of Queensland is one of the top 50 universities in the world and a premier institution to study Cybersecurity. Here, the 3-year Bachelor of Computer Science program teaches the fundamental practices and processes to secure systems from attack, damage and unauthorized access. On the other hand, their Master's program is a 2-year course with four unique specializations: Cyber Defence, Cyber Criminology, Cryptography and Cyber Leadership. The university also lets students graduate with both bachelor and master degrees combined in just 4 years. UQ is also home to AusCERT, the second oldest cyber emergency response team (CERT) in the world after Carnegie Mellon University. Featuring leaders from multiple industries as their teaching faculty members, the university also has cutting edge facilities like the Industry 4.0 Energy Testlab for students to conduct advanced research. Along with academics, there are a handful of active cybersecurity clubs and events that makes the UQ a special place to study cybersecurity.
University of Southern Queensland (USQ)
Ranked at number 1 position in Queensland for graduate employability and boasts of student-centric teaching and learning methods (based on Good Universities Guide 2018). It is located in Queensland one of the most student-friendly places in Australia. It also gives students the opportunity to engage with industry experts and employers thereby making them job ready. There are ample career outcomes for students ranging from system administrators to designers to network analysts to programmers. The list is endless.
It is ranked among the top 1% in the world and top 10 among Australian universities. The university has an international repute with over 10 of its subjects among the top 100 (based on the 2018 QS World University Rankings by Subject). Apart from this, it has reached 5-star QS ratings for its teaching and learning outcomes. It is located in Sydney and has bright post-study work prospects as there are abundant companies in and around the campus. Career outcomes can in the form of a Business analyst, Cloud researcher, Communication systems analyst, Database administrator, End-user support and training, IT or management consultant, Software Programmer and so on.
According to the survey conducted recently in Times Higher Education University Rankings, Monash was rated 83rd in the world. Monash has been awarded 5 stars by "The Good University Guide" for - staff qualifications, student retention, research focus, awards and grants. It has a strong community of international students. It is located in Melbourne, one of the most congenial regions in Australia. There are several career options available for cybersecurity graduates. Right from a security analyst, cryptographer, business analyst, security system developer, programmer, IT security engineer, consultant and so on. As a graduate in this degree students could qualify for professional recognition with the Australian Computer Society (ACS).
Charles Darwin University (CDU)
Charles Darwin University is in the top 2% of universities worldwide. CDU offers great learning prospects and makes students workplace ready post-graduation. According to The Good Universities Guide 2018, CDU has been acclaimed for its exceptional graduate employability with a record 82% of its graduates into full-time employment. It has 11 campuses in Casuarina, Alice Springs, Palmerston, Katherine and Nhulunbuy campuses, alongside centres in Northern Territory, Melbourne and Sydney. It offers a professionally recognised and accredited course by Australia Computer Society (ACS) at the level of professional practice in Cyber Security
Griffith ranks in the top 3 per cent of universities in the world. It ranks 32nd in the QS World University Rankings 2018 apart from 5-star rating for its general educational experience, based on the Good Universities Guide. Griffith has 6 campuses that are based out of cities in Brisbane, Queensland, Gold Coast and Logan. There are on campus recruitment services which help students with part-time and full-time employment by connecting them to recruiters, by helping them market their skills, transition them towards full-time jobs, and help them find work while they are pursuing their course and so on. Post the course students can work as a development operations specialist, network security engineer, security network consultant, security manager or security applications specialist and so on.

Cyber Security graduates have a reasonable chance of PR in Australia as an ICT Security Specialist. This occupation is within the Medium and Long Term Strategic Skills List (MLTSSL). Also in certain cases, the 457 visa is applicable.

AECC leads the way in partnering with the best universities in Australia. They collaborate with the top-notch universities in the region. All the aforementioned universities are represented by us. For more ask for a free consultation today and speak with our friendly consultants about your education, career and PR pathways.
---
By accepting you will be accessing a service provided by a third-party external to https://www.aeccglobal.com.au/