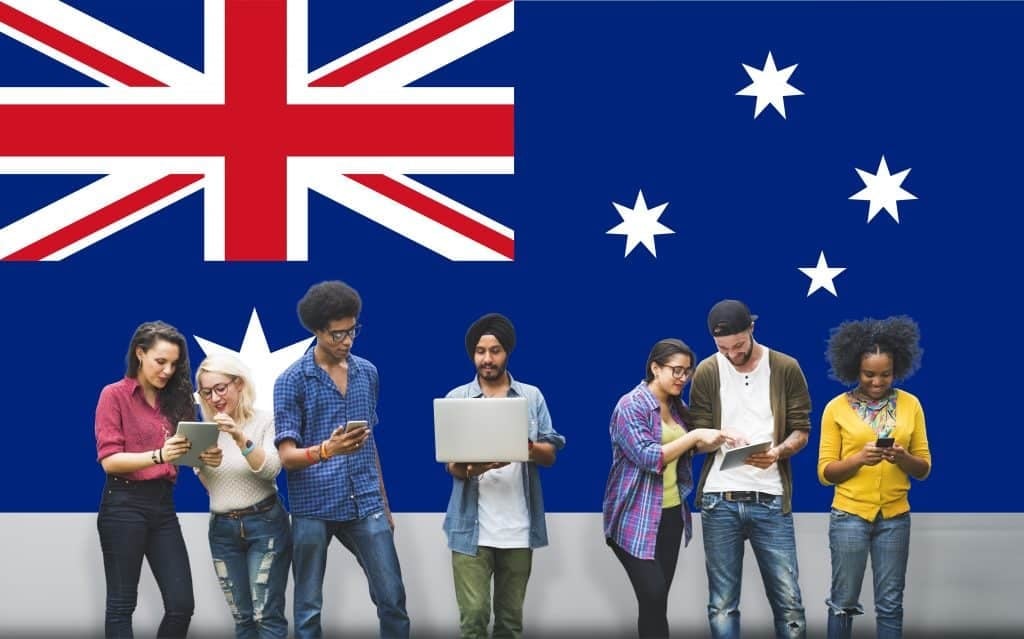 Top 7 universities in Australia to study Business 
Australia is one of the dream study destinations for international students who aspire to study a business degree with global recognition. Australia has some of the finest universities in the world for business education post which many gates for global career opportunities open for students.
The following are the top MBA colleges in Australia as per the Times Higher Education's World University Ranking 2020. These seven institutions remain to be the top colleges in the rankings of other agencies like Q.S as well, with slight variation in ranking among them. 

1.University of Melbourne
2.Australian National University
3.University of Sydney
4.The University of Queensland
5.University of New South Wales
6.Monash University
7.University of Adelaide
 
University of Melbourne

Melbourne Business School, jointly owned by the University of Melbourne and the major business corporations in Australia ranks first in Australia and in the top 40 globally among all business schools. The school offers various two-year, one year MBA programs, doctoral programs and specialized diploma courses in business. International students can also study postgraduate programs in finance, economics and entrepreneurship. The school offers 24 short courses in leadership, strategy and change management for working professionals. Their business analytics program is one of the best in the world and it is delivered by the academics from Yale, Stanford and INSEAD. To encourage diversity, high-value scholarships (up to $50,000) are provided to the deserving international students.
 
Australian National University

ANU's MBA program is most suited to candidates who possess work experience and are already in middle-level managerial positions. The entry requirement is a minimum of 5 years of work experience including 3 years in a managerial role. The 2 year MBA program helps students move to senior management roles in top global companies. The program has 10 core courses and 6 electives that are taught by renowned professors from around the world. Evidence-based management, international business, Entrepreneurship, Strategy, innovation and leadership, change management are some of the areas students can specialize in. The university also offers a real-time opportunity for MBA students to work with businesses situated in Canberra and develop business plans for their new ventures. For MBA students, ANU offers around 30 scholarships some of which are full scholarships. 
 
University of Sydney

Being Australia's oldest university and one of the world's most reputable universities, the University of Sydney offers multiple UG and PG Business management programs. Business law, Business analytics, Marketing, HR, Banking, Transport and Logistics management are some of the popular choices of international students here. As a part of the Industry Placement Program, students work with the businesses in Sydney and other parts of the country for 3 days a week for 10 weeks a semester. The business school holds the most coveted triple-crown accreditation and CEMS membership. In terms of graduate employability, the business school ranks 4th globally. International students from 87 countries are currently studying here making it a very diverse student population. International students have 80 scholarships ranging from $5,000 to $20,000. 
 
The University of Queensland

UQ's business school has accelerated and streamlined MBA programs that are 12 months and 24 months. They also have a flexible program that can be tailored to suit the work and lifestyle of the student. The school's Social Economic Engagement Program enables students to put into practice what they learn and help businesses develop new models of sustainable profitability. As one of the oldest universities in Australia, the business school has faculty who are leading management consultants to companies around the world. The course costs around $80,000 and the average starting salary of its students is around $190,000 a year. 
 
University of New South Wales

Ranking 5th in the list this year, University of New South Wales offers MBA full time, Executive MBA and Graduate Certificate Programs. The business school has world-leading academics and CEOs of MNCs in its faculty line up and in advisory council respectively. Students are provided with internship opportunities in Australia and overseas and the school claims that it has produced more millionaires than any other business school in Australia. Accounting, Banking and Finance, Actuarial and Risk, Marketing, Economics are some of the areas of study offered by the university. Out of 16,000 students in the university, 41% are international students. In the year 2018, over 7 million AUD has been awarded to students as scholarships and prizes. 
 
Monash University

With 40% of international students and a class size of 50, the MBA program in Monash aims at offering the students experience-based learning. The school involves students in consulting projects, overseas education and industry engagement opportunities to ensure they acquire the required skills to be world-class business leaders. The average student age is 30 and they possess 7 years of work experience on average. The Career Advancement Program helps students develop their career plan and helps them acquire the required skills to get on the desired career path straight after graduation.
The strong alumni network of Monash has 4,000 individuals who hold impactful, leadership positions in Australia and overseas. The Alumni Engagement Program helps students build their professional network and through this program, the alumni can avail exclusive benefits like discounted course fee on Executive Education Programs. Top-performing International students are awarded high-value scholarships and there are exclusive scholarships for women that's valued at $24,000 a year. 
 
University of Adelaide

The third-oldest university in Australia, University of Adelaide is associated with 5 Nobel laureates. The University has MBA programs for both the fresh graduates and students with work experience. There are also 100% online MBA programs for working professionals. The course duration is 1 to 2 year depending on the program. MBA Emerging Leaders program is for fresh graduates with no work experience. The course duration is 1.5 years but it can be accelerated to complete in 12 months too.
Here students study 9 core courses and 1 research course. MBA Specialisations program is for students with work experience and they can study Entrepreneurship, Marketing, Project Management, International Trade and Development. MBA in Wine Business is a unique offering which helps graduates learn the trade of wine business. The university has student exchange programs with many high profile universities overseas and the students get plenty of internship opportunities during their course period. Students can access information on jobs, volunteering opportunities, career workshops and more through the university's exclusive Careerhub portal.
 
Business programs in Australian institutions are highly competitive and in the league of top MBA programs in the world. Students need to research the institutions and choose the ones that will suit their career goals. Apart from these top universities, there are emerging business schools that are climbing up in the ranking year after year. If you are an MBA aspirant, consult with our experts, know your options and crack your way to one of the best institutions in Australia easily. 
---
By accepting you will be accessing a service provided by a third-party external to https://www.aeccglobal.com.au/