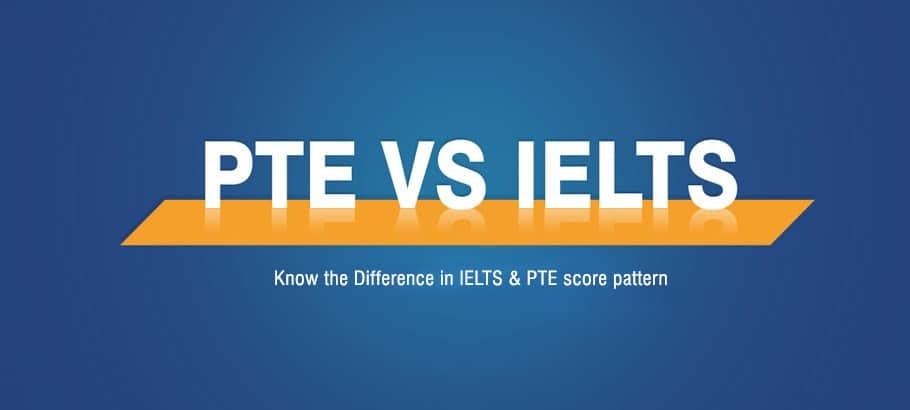 Understanding the Scoring Pattern of PTE in Comparison with IELTS
IELTS Vs PTE Score pattern
Indeed a lot depends on your IELTS or PTE score in case you are harbouring big dreams of a global degree! And before you enroll either for IELTS or PTE, here is some help that will help you to understand the scoring patterns of both. IELTS and PTE are very much similar when it comes to test sections; both of them have four different sections of Reading, Listening, Speaking and Writing. But in context of scoring, both are very different.

A student can score from 1 to 9 while taking IELTS but for PTE Academic, a student gets the grade on the scale of 10 to 90. (Infographic showing the IELTS score pattern and PTE score pattern) Since PTE Academic is a computer-based test, its results are far more accurate and unbiased. A student's PTE Academic score will be generated against the Global Scale of English, a thermometer-style scale which is known for reflecting an accurate and comprehensive overview of his or her English skills.

The score report of PTE Academic tells not just the overall score of the student but also a detailed breakdown of student's performance. This score report also marks you communicative skills scores and enabling skills scores. The communicative skills include the score of listening, reading, speaking and writing sections which get marked as per your test performance.

However, the score for enabling skills which includes grammar, oral fluency, pronunciation, spelling, vocabulary and written discourse, will be based on all test items assessing one or more of these skills.

The PTE Academic Score Report will also have some infographics to help the students assess their strengths and weaknesses. This becomes extremely beneficial as students who are interested in working upon their English proficiency stand a chance to improve their score by paying attention to their weak areas.

And there is one more interesting thing – you will get your recorded speech samples along with your detailed score reports, both of these can be sent to admissions offices at universities worldwide. Now if you have already understood how to score well in PTE, go ahead and save Rs. 9810 (10% of PTE Academic Test fee) on booking the PTE Academic test online through AECC, a PTE Professional Partner- PTE Academic, offering 10% discount voucher.
---
By accepting you will be accessing a service provided by a third-party external to https://www.aeccglobal.com.au/