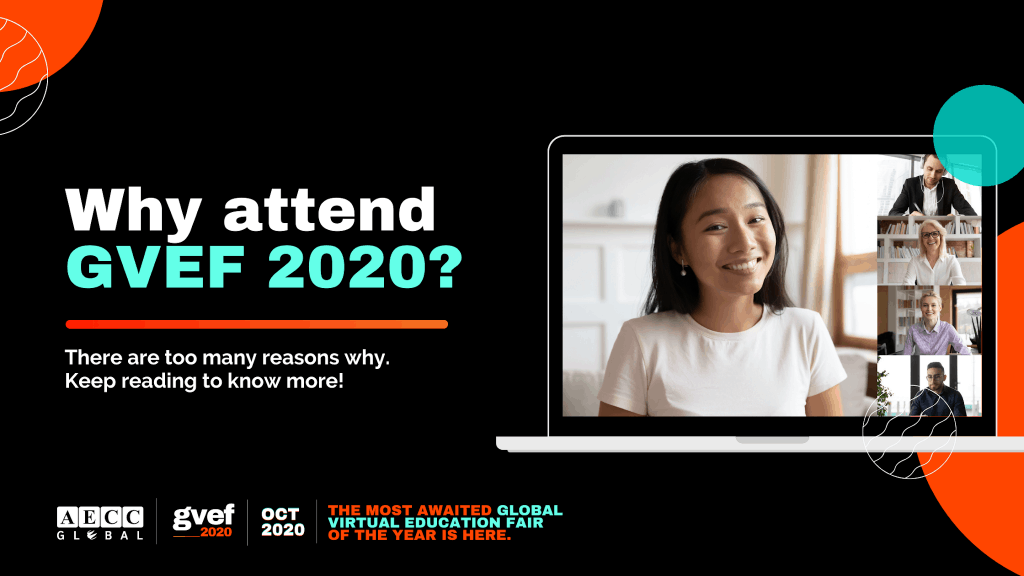 GVEF 2020 - A virtual fair for international students wondering how to get PR in Australia quickly
Attention international students! It's time to power your dreams in Australia.
Obtaining Permanent Resident (PR) status in Australia is inarguably a dream of many international students. The reasons are pretty obvious, aren't they? If you are aspiring to be a permanent resident of this country, keep reading. 

Every year, thousands of skilled international immigrants acquire the much-coveted Australian PR. The pathway to PR is not a set path. It differs from person to person, case to case. If you are choosing to go via the study path, it is important to make wise choices at the right time. For your current qualification and experience, there are courses that improve the chances of getting PR considerably compared to others. All you need is the right guidance from the experts who have helped thousands of international students achieve their study abroad and migration goals in the past. With the most updated information they have in hand and their experience in this industry for years, they can show you the shortest and smartest path to success. 

Welcome to GVEF 2020 -  Australia's most awaited virtual education & migration fair for international students! 

Global Virtual Education Fair (GVEF) 2020 is the place where you find your smartest path to fulfil your dreams in Australia. Usually, AECC Global conducts the fair every year at a few major locations in Australia. At the event, international students walk in, meet top Australian universities and our expert migration agents team face to face and get personalized solutions, exclusive scholarships and go home all smiles. 

This year COVID19 has challenged us to be creative. The fair had to be designed as a virtual event. Though we miss the fun and festive mood of the physical event, we rolled up our sleeves and accepted the challenge. We put our hands together, figured out the best plans and platforms to deliver the most amazing virtual experience to you. We are now all set and excited to see you have a pleasant, interactive experience with us virtually, at the comfort and safety of your home.

On October 16, 2020, Friday, between 1 PM to 5 PM AEST, you can check into GVEF 2020 from your home, through any device. Just like a physical event, we will welcome you and direct you to the booth of the expert you want to meet. It is that simple! We posted this news out on our social channels only a week ago and the response from international students has been overwhelming. 

With the government announcing new visa and migration rule changes quite frequently and educational institutions coming up with their own student support plans post COVID19, there is so much information for you to keep up with. We understand it could be hard for you in this situation and so we are more prepared than ever to support you with your career success. 

GVEF 2020 has two major components. 
Migration webinars (Two sessions)

Education fair
The event is totally free for you to register and participate. Detailed information on what these segments will cover is given below. Register now. And, you can collect a lot of exciting gift vouchers at the event. Check them out. 

GVEF 2020 Migration Webinar 

The event has two migration webinar sessions in which our certified migration agents will give you an overview and the latest updates on the important topics pertaining to migration. You can also interact with them and ask questions in the live Q&A segment at the end.
PR pathway through General Skilled Nomination (GSM)

Visa options for skilled migration through states: State Nominated Visa (Subclass 190) and Skilled Work Regional (Provisional) visa (Subclass 491)

State Nomination Requirements in different states

Study and migration in regional Australia

Live Q&A session
From basic queries like eligibility for Australian PR or how to apply for a PR, to more specific questions on visas and PR leading courses in Australia, this session will answer them all. 

Gift Alert!  

3 participants per session get a $50 gift voucher each. You could be one of the lucky six! Don't miss out. 
Read more here and register now.  

GVEF 2020 Education fair

To join the workforce early in Australia, it is crucial to grab the first opportunity that you come across. We have one trimester left in 2020 and 2021 is only a couple of months away. It's time to focus again on your study goals. To facilitate international students who are looking to study the best courses for jobs in 2021 in Australia and even in the Trimester 3 of 2020, we are bringing 30+ world-class universities together on GVEF 2020. The institutions are from across Australian states and territories and you can have direct interaction with their representatives to make the best study decisions. 

You can find the list of participating universities here. One optimistic way to look at the impact of Covid19 is that the universities have created new scholarships, fee discounts and better student support systems to ease the situation for international students. These improvements help you pursue your desired course at a cheaper cost than that of the previous years. 

Find out the best courses to study in Australia in 2021, know the top scholarships for international students in 2021, Australian university rankings, top courses for PR and so much more at the GVEF 2020 Education fair. 
Gift Alert!   

At the education fair,
Get

up to $3500 worth of gift vouchers from global brands

 

100% application fee waiver

for a select set of participating universities 

Get up to

$500 worth of visa service credit

from AECC Global, if you apply to one of the universities through us. 

Avail

Free student visa service

when you apply to study through us
(Check out here the terms and conditions and eligibility criteria to avail these offers)
How to participate in GVEF 2020?
Check out the event schedule, session agenda, list of universities etc

here

and register.

We will send you reminders on email and SMS

Participate in the event and accelerate your career! 
You are only as good as your next decision. Grab this chance and make the best, fail-proof career decision and fly high. Pass the word around to your friends whom you think might benefit from the event. 
We cannot wait to meet you at the event. The curtain goes up soon! 
Register now.
---
By accepting you will be accessing a service provided by a third-party external to https://www.aeccglobal.com.au/