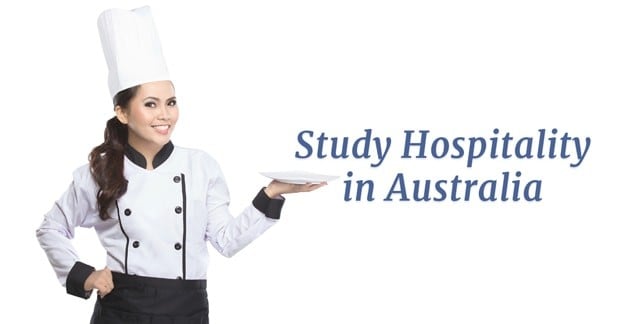 Why Study Hospitality Management in Australia?
Benefits of Studying Hospitality Management
Internationally recognised education: Graduates of hospitality degree in Australia are amongst the highly preferred applicants by the industry, assuring its graduates of competitive advantage. Having a globally recognised Australian education allows you to open your wings to explore the world with confidence to fulfil your career goals.

The world is your oyster: Students who completed a hospitality management degree in Australia have boundless opportunities. From restaurants to travel agencies, to hotels and resorts, hospitality degree holders enjoy an array of job openings in the vast industries of travel and hospitality.  Below are a few career options:
Restaurant Manager
Resort Manager
Tourist / Cultural Tourist Development Manager
Travel Consultant
Hotel Manager
Airline or Cruise Manager
Leisure, Sports and Events Manager
Flexible working hours: 
As the sun goes down, the opportunities do not end, it only gets better. The vast hospitality business offers flexibility in work time, allowing students and professionals to choose the most suitable timing for them, be it morning shift or night shift or perhaps anything in between.

Even more extra income:
While traditional industries may have the no-pay company shut down period during the festive season, the hospitality industry is teeming with job opportunities, plenty for students and professional hospitality graduates to earn extra income.

The master chef:
Leading your passion for food and skills in cooking in achieving to become a master chef.  Australia offers numerous cookery courses and training from reputable universities/institutions designed to increase your knowledge, enhance your cooking techniques and provides actual hands-on experience.  Plus, you are exposed to one of the most ethnically diverse nation, savouring flavours from around the world.
Degrees and certifications in Australia:
In helping international students realize their dreams, education providers offer an array of specially crafted courses leading to a Diploma, Advanced Diploma, Bachelor Degree and Masters' qualification suiting their needs. Few examples of which are:
Certificate III in Commercial Cookery
Advance Diploma of Hospitality
Certificate III in Patisserie
Bachelor of International Hotel and Tourism Management
Bachelors of Arts/International Hotel and Tourism Management
Bachelors of Business Management/International Hotel and Tourism Management
Master of International Tourism & Hospitality Management - Master of Business Administration
With so many universities and institutions offering similar hospitality courses, you can easily get overwhelmed. We at AECC Global have combined Management team experience of 16 years in helping students navigate the maze of visas, application forms, courses, credits and life in Australia.

Hospitality Management Course duration: From 6 months to 3 years (full time).

Visa requirements: Here are some of the requirements in securing a student visa. Alternatively, you may contact our education counsellors for a worry-free process.
A valid passport for the duration of your study in Australia
Offer letter from the selected university/institution
IELTS or other English proficiency tests
Evidence of access to sufficient funds
Evidence of Overseas Student Health Cover
All other relevant documents listed on the Department of Home Affairs visa checklists.
The future awaits:
Investing in your future with your Australian education and qualified job experiences are your stepping stones toward your Australian dream. As most visa types, an assessment procedure of your nominated occupation by a Recognised Authority is required for migration purpose such as Permanent Residency.

Occupations related to hospitality are listed consistently in the Short-term Skilled Occupation List (STSOL) and Medium and Long-term Strategic Skills List (MLTSSL). A sample of which is Chef, Cook, Café or Restaurant Manager, Hotel or Motel Manager to name a few.

We at AECC Global are committed to helping create your personalised pathway to success in Australia and your chosen hotel management career.

Check now: How easy to get a Hospitality Degree
---
By accepting you will be accessing a service provided by a third-party external to https://www.aeccglobal.com.au/