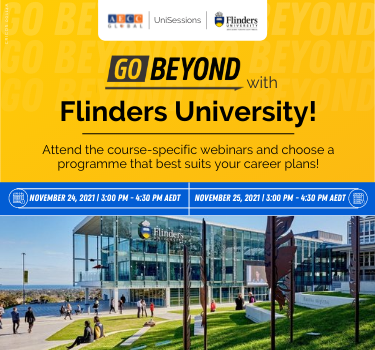 Go Beyond with Flinders
(An education and migration webinar by AECC Global Australia) 
AECC Global Australia in association with Flinders University is conducting 'Go Beyond with Flinders' -  an exclusive webinar on the best courses available at the university in February
2022 intake. 
The two-day webinar focuses on a certain set of courses each day. The migration webinar migration on both days will focus on updates pertaining to migration in South Australia.

3.00 PM to 3.15 PM  -  Migration Webinar
3.15 PM to 4.15 PM  -  Nursing,Social Work &                                                   Education
4:15 PM to 4:30 PM -   Migration Q&A


3.00 PM to 3.15 PM  -   Migration Webinar
3.15 PM to 4.15 PM  -   IT, Engineering
4:15 PM to 4:30 PM -    Migration Q&A

About Flinders University
Flinders University, located in the beautiful city of Adelaide, is one of the top 2% universities in the world. The university is home to over 26000 international students out of which a little over 5000 are international students from 90 countries. Established in 1966, today Flinders University is one of the prestigious institutions in Australia offering 500+ undergraduate and postgraduate courses across its three campuses. Various surveys in recent times conclude that Flinders' graduates across disciplines are highly employable and enjoy better salaries.


#1 university in South Australia for teaching quality






#1 university in South Australia for undergraduate starting salary





90% of the research at Flinders rated world-standard or above




Over 550 scholarships worth $2.2 Million for students





Study, live and work in Adelaide, one of the liveliest cities in Australia



About the Go Beyond with Flinders webinar
This webinar by AECC Global solely focuses on the courses available at Flinders University in February 2022. This webinar aims to provide you with a holistic overview of studying at Flinders University in the February 2022 intake. Each day of the webinar covers a set of subject areas.
Day 1: Nursing, Education & Social Work         Day 2: IT & Engineering


The following topics will be covered by the experts in each of the sessions. 
Border Status Updates and 2022 View

Why Study at Flinders? (Each subject will be specifically discussed)

Introduction to Broad Study Area

Exploration of Undergrad and PostGrad Courses

Industry Connections

Learning Delivery & Career Outcomes + Salary Trends

International Student Services

Living in Adelaide

Campus and Online

Student Stories

Scholarships, Eligibility and Fee Structure

Live Q&A
About the Migration webinar 
If you are aspiring to study and migrate in South Australia, here is an exclusive webinar for you on both days of the event. On the webinar, you can 
- Learn more about occupations suitable for a South Australia state nomination
- South Australia state nomination updates
- Know about visas that you can apply for a South Australia state skilled visa
- Chat with our registered migration agents in the Live Q&A session
Study internationally accredited nursing courses at Flinders to play a vital role in the healthcare industry in Australia. Flinders ranks in the top 100 for nursing among the world universities and the healthcare industry is projected to have the strongest employment growth in Australia from 2023.


Courses available in Feb 2022
Undergraduate - Bachelor of Midwifery (Preregistration)
                               Bachelor of Nursing (Preregistration)
Graduate           -  Bachelor of Nursing (Graduate Entry)
Postgraduate    -  Acute care nursing 
                                Nurse Practitioner
                                Nursing (Coursework and Research)
                                Primary Healthcare Nursing
Flinders university proudly holds five-star ratings in Teaching education for median salary, learner education, overall education and teaching quality. If you aspire to be an inspiring teacher or a leader in the education industry, begin your journey with Flinders. You can broaden the employment opportunities with speciality study areas in arts, science, health sciences, disability studies and languages. Teaching graduates from Flinders enjoy median salaries above the national average. You can pursue these advanced study areas in Education at Flinders this year.
Sports, Health and Physical activity

Disability and Development Education

Sports Performance Coaching

Cognitive Psychology and Educational Practice

Leadership in Education

Research Methods
*This list is not exhaustive. Refer to Flinders' website for detailed information on the courses offered.
Social work is the perfect career choice for students who seek a highly satisfying career in the social service sector. A social work degree enables you to work in multiple areas of human services and you get suitably rewarded to work for the cause you care about. Flinders ranks #1 for full-time employment and overall experience in social work in South Australia. With the university's strong industry links and experienced faculties, you graduate as a highly employable individual.  
Courses available in Feb 2022
Undergraduate - Bachelor of Social Work

Postgraduate   -  Loss, Grief and Trauma Counselling 
                           Research Method
                           Social Work
Higher Degree by Research -  Doctor of Philosophy 
                                                 Doctor of Philosophy by Prior Published Work
                                                 Doctor of Philosophy in Social Work
IT courses at Flinders are designed in collaboration with the industry that makes you a job-ready graduate. As an authorised partner of Cisco, you can undertake courses that lead to valuable Cisco certifications such as CCENT and CSNA. Study IT at Flinders' $120M teaching and research facility and brighten your career prospects in IT. You can study the following advanced specialisations in this February intake. 
Network and Cybersecurity Systems

Artificial Intelligence

Game Development 

Data Science 

Applied Geographical Information Systems 

Mathematical Sciences
*This list is not exhaustive. Refer to Flinders' website for detailed information on the courses offered.
Flinders is ranked as the number one university in South Australia for Engineering learning resources in 2020. The university offers a range of career-ready undergraduate and postgraduate courses in Engineering with multiple entry pathways. Through the Work Integrated Learning program at Flinders, you get to work 20 weeks in the industry during your course. With the median salary for engineers soaring over $100k a year, Engineering is a rewarding career for curious-minded individuals. Here are the engineering specialisations you can study at Flinders as undergraduate and postgraduate programs. 
Biomedical Engineering

Electrical and Electronics 

Civil Engineering

Mechanical Engineering

Robotics Engineering

Software Engineering
*This list is not exhaustive. Refer to Flinders' website for detailed information on the courses offered.
AECC Global is one of the fastest-growing educational consultancies in the world. We help international students discover the best courses and institutions across the globe to fulfil their career and migration dreams.
Unisessions © 2021 AECC Global.